Stronger Together!
The Naugatuck Livestrong® at the YMCA's goal is to help meet the physical needs of cancer survivors through conditioning and strength training. Participants are given access to certified trainers for a 12-week small group program free of charge. Specially trained wellness coaches will work with each participant to fit the program to his or her individual needs. The instructors are trained in the elements of cancer, post rehab exercise and supportive cancer care.
Every year more and more family members and friends are diagnosed with cancer. We hope to help the increasing number of cancer survivors who find themselves in the transitional period between completing their cancer treatment and the shift to feeling physically and emotionally strong enough to attempt to return to their normal life or their "new normal".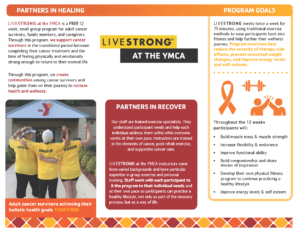 What the participants have to say…
"The program keeps me active with new friends."
"Working out helps me feel better. The people help me feel better.
In return I make them feel better. That's what it is all about."
"Livestrong made me stronger, healthier & pain free."
"Through the program I've learned to live again."
"The value of exercise helps me mentally and spiritually."
"Livestrong brought back my wife's hope and love.
Thank you Livestrong for bringing it back into her life."
---
Naugatuck Y Livestrong Contact Information
Kim Suma Information
(203) 729-9622
284 Church St. Naugatuck, CT 06770