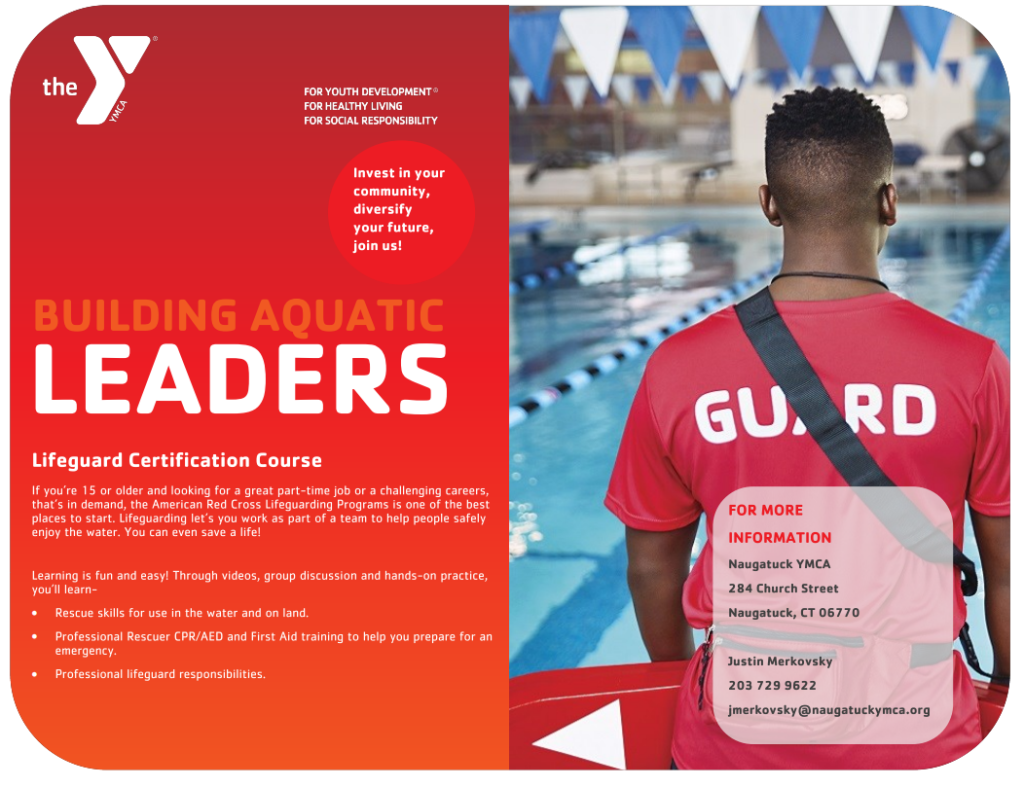 LIFE SKILLS SAVE LIVES
If you're 15 or older and looking for a great part time job or a challenging career, that's in demand, the American Red Cross Lifeguarding Program is one of the best places to start. Lifeguarding lets you work as part of a team to help people safely enjoy the water. You could even save a life!
BECOME A CERTIFIED LIFEGUARD
Learning is fun and easy! Through videos, group discussion and hands-on practice, you'll learn—
Rescue skills for use in the water and on land.
First aid and professional rescuer CPR/AED training to help you prepare for an emergency.
Professional lifeguard responsibilities.
Surveillance skills to help you recognize and prevent injuries.
PREREQUISITES
Swim a minimum of 300 yards continuously demonstrating breath control and rhythmic breathing.
(May swim using front crawl, breaststroke or a combination of both but swimming on the back or side is not allowed.)
Tread water for 2 minutes using only the legs.
Complete a timed event within 1 minute, 40 seconds.

Swim 20 yards, feet-first surface dive to a depth of 7 to 10 feet to retrieve a10 pound object
Return to surface swim 20 yards hold object with both hands keeping face at or near pool surface
Exit the water without using a ladder or steps

Swim 5 yards, submerge and retrieve three dive rings placed 5 yards apart in 4 to 7 feet of water, resurface, and swim 5 yards to the side of the pool
UPCOMING LIFEGUARD TRAINING DATES
All certifications are initial American Red Cross Lifeguard Certifications (Blended Learning). No current renewal courses.
2023 Training Opportunities Naugatuck YMCA 
Class Updates:
Upcoming: May 6-7
---
Naugatuck Y Aquatic Contact Information
Aquatic Director Justin Merkovsky
(203) 729-9622 X 3009
284 Church St. Naugatuck, CT 06770