Little Pal Basketball will follow the most recent guidelines and restrictions put in place by the State of CT, DECD and local Health Department. Get the facts here: ct.gov/coronavirus
Livestream games brought to you by the Naugatuck YMCA!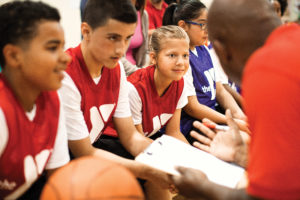 Become A Sponsor Learn More
2020-2021 Season (October – March) Ages 7-14 (Must be 7 or 14 prior to 12/31/2021)
Little Pal Basketball is a youth league for boys and girls. The full season runs October, 2021 through March, 2022. Registration will run from Monday, October 1st through Friday, October 15th at the YMCA's welcome center or online. Tryouts and Draft are the following two weeks beginning on Monday, October 18th through Tuesday, October 25th. Practice in November. Bring all registrations to the front desk of the YMCA.
Registration – Friday October 1 2021 – Friday October 15 2021
Tryouts & Draft – TBD
Practice Schedules – TBD

Game Schedules –  TBD
2020 -2021 Season Safety Guidelines (COVID-19)
Temperature check is required before entry
Masks are required at all times
One parent per player
Button whistles will be implemented for the season
Each practice & game will be separated by 15 minute sanitation sessions
Coaches are responsible for sanitizing after each game & practice
Alternative methods of displaying sportsmanship are encouraged (no contact incl. high fives, hand shakes, fist bumps etc.)
64H, which is a chemical approved by the CDC to kill corona virus germs, will be used to sanitize surfaces.
Games will be livestreamed when available
View the 2020-2021 season safety guidelines here.
For updates on games, practices, inclement weather and more click here to join the Little Pal Facebook Group

Spring Little Pal Basketball 2021 (March – May)
This is a Co-ed 4 on 4 basketball league for boys and girls ages 11, 12, 13 and 14 year old's (still in 8th grade). Players must have prior playing experience as it is a competitive league. Games are are planned to be at the YMCA (TBD).
Registration – TBD
Tryouts – TBD
Practices – TBD

Games – TBD
Junior Spring League 2021 (March – May)

This is a co-ed league for players ages 8-10 years old.
Games are at the YMCA.  Game times will consist of 20 minutes of warmups and 35 minutes of game play. All players will go through a full skill assessment. The league typically runs for 7 weeks.
Registration – TBD
Tryouts – TBD
Games – TBD
Contact Ian Gatavaski for more information