2021 Annual Campaign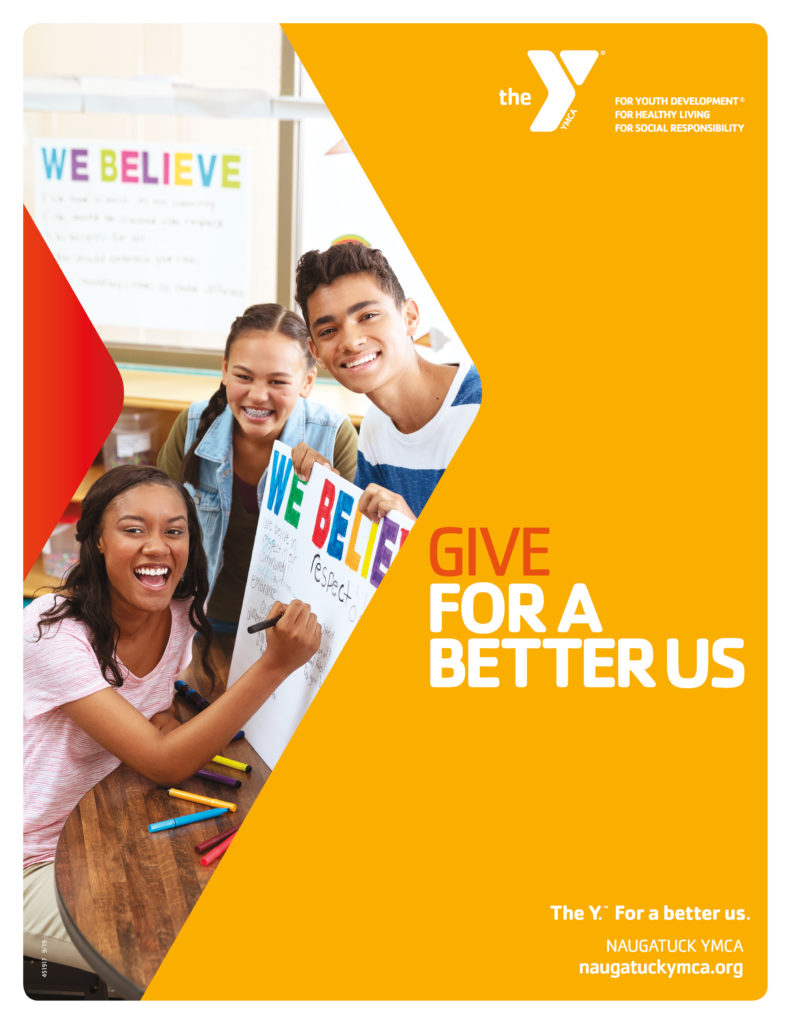 Join us for the Annual Campaign kickoff on 4/19/2021
Come together while safely staying apart. Learn more about the in-person/virtual event by clicking here.
RSVP by April 15th
---
Youth Development
We believe that all kids deserve the opportunity to discover who they are and what they can achieve. In Connecticut, we know that over 100,000 children are unsupervised after school and 40% of our children are entering kindergarten unprepared for school due to their lack of preschool experiences. In Naugatuck we know nearly 17% of public high school students fail to graduate.
Healthy Living
Health and well-being are about balance. In our community we know that 1 in every 6 people is obese. The Naugatuck Y engages over 1,000 youth and 850 active older adults in physical and social activities yearly.
Social Responsibility
Bridging the gaps that divide people in our communities.  In our community, we know that 47% of children live in low-income families and 29% of seniors are living alone and isolated from friends and family.  Annually the Y involves 40 volunteer leaders in raising funds to ensure low income and socially isolated individuals can participate in Y programs.
---
Maximize your donation impact during GIVE LOCAL 
2021 Give Local: 7:00AM 4/20/2021 – 11:59PM 4/21/2021
Give Local is hosted by Connecticut Community Foundation and sponsored by Ion Bank Foundation for the ninth consecutive year, Give Local Greater Waterbury and Litchfield Hills benefits the vital work of hundreds of nonprofit organizations in our region. The Naugatuck YMCA is proud to be a participating local community organization. View our donation page here.
Donate 
7:00AM-10:00AM
on 4/20 to help us earn $1,000 prize
This fun and inspiring 36-hour online giving event unites donors, businesses, and organizations in giving back to our local community. Thanks to generous sponsors as well as funds from Connecticut Community Foundation, every dollar donated during Give Local, is stretched with bonus funds and nonprofits have opportunities to win cash prizes throughout the event. All of this adds to the excitement while raising essential funds for the work of our local nonprofits.
Donate
10:00AM-7:00PM
on 4/20 to help us earn $1,000 prize
Since 2013, Give Local has raised over $7.2 million for the vital work of local nonprofit organizations.
This year donations made by sponsors, like Liberty Bank, Ion Bank Community Foundation and more, award prizes to the organizations that receive gifts at specific times, days and more. Maximize your donation by choosing to donate during one of these three times.
Donate
12:00PM-3:00PM
 on 4/21 to help us earn $1,000 prize
The Kickstart prize of $1,000 will be awarded to the organization that receives gifts from the most unique donors between 7:00AM-10:00AM on Tuesday, April 20th 2021. The Give New Haven County prize of $1,000 will be awarded to the organization that receives gifts from the most unique donors between 10:00AM-7:00PM on Tuesday, April 20th 2021.
---
How donation dollars make an impact!
---
Naugatuck Y Annual Campaign Kickoff Contact Information
CEO Mark LaFortune
(203) 729-9622 X 15
284 Church St. Naugatuck, CT 06770