For every child less than 15 years of age who dies from drowning, 10 more children are seen in the emergency room

for nonfatal submersion injuries. The Naugatuck YMCA Drowning Prevention & Water Safety Program helps prevent accidental drowning occurrences and keep children safe around the water. By partnering with the Naugatuck Recreation Department, we are helping the community to become aware of the potential dangers of being in and around the water and how to stay safe. YMCA swim instructors travel to the area schools and provide a 2 hour program with emphasis on drowning prevention and staying safe around water so everyone can have a positive experience. Children enrolled in the recreation department's summer camp will participate in the water safe program during their weekly swim session at the Y.
BE CONFIDENT! BE SAFE! HAVE FUN!
NAUGATUCK Y WATER SAFE WEEK
Through the Safety Around Water program, the Y helps prevent drowning. Three children die every day as a result of drowning. Drowning is the leading cause of death for children ages 1 to 4. It is the second leading cause of death for children ages 5 to 14. As an organization dedicated to creating safe spaces for all, the Y has an opportunity to make a difference. Research has shown that participation in formal swimming instruction can prevent drowning.
The program builds upon individual skills to create two core skill sequences to help children be safe in and around water: jump, push, turn, grab and swim, float, swim.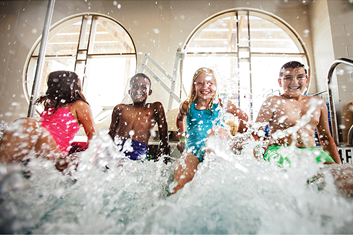 Cost: $15
Course Dates: April 18, 19, 20, 21
Course Time: 4PM-5PM
Location: Naugatuck YMCA